Paris2Nice fundraising cycle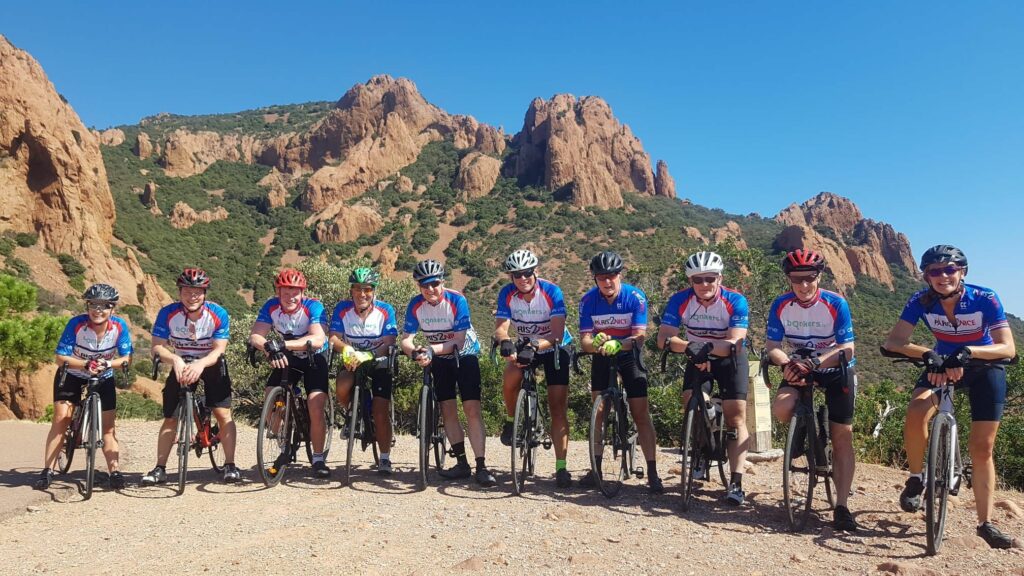 Last year Christophe Douche from our Luxembourg office, and Jeremy Soutter from our UK office, took on the challenge of cycling from Paris to Nice to raise funds for charity. Thanks to the support and generosity of industry colleagues, family and friends, they raised over €14,900.00 for The ALS Association, The Ellie Soutter Foundation, Chernobyl Children International and Special Olympics New Jersey.
This year, Michael Corry and Aaron Dunne from our Dublin office will complete the 750km cycle over six days, from the 10th to the 15th of September, starting off in the beautiful city of Paris and finishing on the iconic Promenade des Anglais in Nice.
Day 1: Saturday,10th September, Paris to Montargis 125km
Day 2: Sunday, 11th September, Montargis to Nevers 145km
Day 3: Monday, 12th September, Montelimar to Carpentras 90km
Day 4: Tuesday, 13th September, Carpentras to Aix-En-Provence 125km/164km
Day 5: Wednesday, 14th September, Aix-En-Provence to St. Maxime 127km
Day 6: Thursday, 15th September, St. Maxime to Nice 110km
They'll take on this extraordinary challenge to raise funds for two great causes.
LauraLynn Ireland's Children's Hospice
LauraLynn is dedicated to providing a Community of Care that delivers evidence-based, personalised services to children with palliative care needs, complex care needs and complex disabilities. They also offer family support services and a home to residents.
St. Francis Hospice
St. Francis Hospice is a voluntary organisation at the forefront in identifying specialist palliative care needs in the community and developing responses to them. Their philosophy also addresses the needs of the patient's families, friends, and all healthcare professionals and volunteers.
If you would like to support Aaron and Michael and these two worthy causes, simply click on the link below.
Michael and Aaron will also provide daily blog updates throughout their journey, so make sure to check back to see how they are doing.
Day 1: Michael Corry and Aaron Dunne's journey begins
We leave Paris at 8am, cycling past the Eiffel Tower. The first day of our journey begins with rain, but luckily the weather clears once we reach the countryside.
Day 1 sees our group cycle 125km from Paris to Montargis, nicknamed the "Venice of Gatinais", owing to its 131 bridges.
Day 2: Our group sets out from Montargis to Nevers – 145km
Today's destination is Nevers, known for its rich and varied heritage, in particular its palace and cathedral, which dominate the landscape of this town. This morning we cycle into the Loire valley in lovely sunshine. The route then climbs taking us through small villages towards Sancerre where we stop for lunch.
After a long but rewarding day of cycling, we arrive in Nevers for the night.
Day 3: Crossing the wonderful scenery from Montelimar to Carpentras – 90km
This afternoon's cycle takes in the wonderful view of the lavender fields and the village of Grignan with its stunning Renaissance Castle. The shortest day of cycling so far. However, we are bracing ourselves for tomorrow, possibly the toughest day we will face in the saddle as we take on the challenge of cycling up Mount Ventoux. A serious climb by any standard!
Day 4: Ascending the Mont Ventoux Carpentras to Aix-En-Provence – 125km/164km
As expected, this is the steepest and most challenging day so far. The route takes us on a wonderful quiet road over the Col De Murs, bringing us to the ochre red-coloured town of Rousillon, where Samuel Beckett spent the Second World War. Our destination is Aix-en-Provence, with our group taking on the 1,910-metre climb to the top of the famous Mont Ventoux which dominates the skyline. We complete the vertical ascent in 2.5 hours. Definitely one of the toughest things we've ever done but also one of the most rewarding.
Day 5: Penultimate day battling uphill from Aix-En-Provence to St. Maxime – 127km
Our group crosses the Aix region with its wonderful scenery and great association with the artist Paul Cezanne and Mont Sainte-Victoire – a great local landmark. Our destination is St Maxime on the shores of the Riviera. Today's route is more challenging than many expected, involving 'climbing' from early morning and torrential rain resulting in hard road surfaces.
We celebrate our group's arrival in St. Maxime and the penultimate day of our journey.
Day 6: The last leg of our journey takes us from St. Maxime to Nice – 105km
The finish line is almost in sight! Today's cycle starts along the beautiful coast before heading inland through the magnificent Cap Esterel overlooking the Mediterranean. Our last few miles are alongside the glamorous resorts of Cannes and Antibes leading to the famous Promenade des Anglais and into the beautiful resort of Nice. We cross the finish line on the Promenade des Anglais greeted by the welcoming team. We are exhausted and delighted in equal measure. An experience we will always remember. We made it!
Thank you to everyone who has supported us with messages of good luck and encouragement along the way, especially those who contributed to our two fantastic charities of LauraLynn and St. Francis Hospice.
Written by