Introduction
This Privacy Notice applies to all companies within the Carne group of companies set out at Appendix I ("Carne").  References within this Notice to "Carne", "we," "our," or "us" are references to the group entities.  Carne recognises that our greatest asset is the data entrusted to us.  This Notice explains how Carne will manage the Personal Data of Individuals, in a manner consistent with the General Data Protection Regulation (2016/679) and equivalent applicable local laws and regulations, each as amended from time to time.
Carne is a global company headquartered in Dublin, Ireland, which provides a range of fund management, compliance, governance and related support services ("Services") to clients including investment funds (both regulated and unregulated), fund management companies and investment firms. In the provision of Services by Carne, Carne will collect and process Personal Data, including Personal Data of its clients and parties connected with clients such as natural persons who are employees, financial advisors, directors, officers, employees, agents, trustees and / or authorised signatories of clients, registered unitholders and applicants for units in funds sponsored, managed or advised by Clients, and directors, officers, employees of service providers to clients.
For more information about our services, please refer to our website: www.carnegroup.com
Personal Data We Collect
Personal Data is defined as any information relating to an identified or identifiable natural person ('Data Subject').  This means any information which Carne has or obtains, or which an Individual provides to Carne whether directly or through Clients or their service providers, such as his / her name, address, email address, date of birth etc, from which that Individual can be directly or indirectly personally identified, and may include information such as identification and account numbers, tax identifiers and residency information, and online identifiers. Some of this Personal Data may be sensitive Personal Data, such as data revealing racial or ethnic origin, political opinions, or trade union membership.
Employees and Candidates
Carne Group has a Privacy Notice, available separately and/or on request, for the processing of Personal Data of employees, contractors and job applicants.
Clients and prospective clients
WHEN
We may ask you to provide Personal Data including but not limited to when:
You use the website.
You refer a colleague / contact to us.
You connect with us directly via phone calls or video conferencing platforms.
You participate in a marketing/sales promotion.
You attend trade events and other industry networking events.
You register or attend a webinar or other event.
If you choose to provide us with a third-party's personal information (the person's name, email and company), you represent that you have the third-party's permission to do so.
WHAT
We may collect and process Personal Data relating to our ongoing relationship with you, such as via correspondence and calls, and in the administration of our relationship with you. Video and/or telephone calls with you may be recorded for the purposes of record keeping, security and training, and you will be notified if this is the case.
As part of our client onboarding and due diligence process, and in line with legal obligations outlined below, we may process some or all of the following name, signature, postal address, email address, date and place of birth, nationality, professional or employment related information, source of funds details, signatures, other contact details, account numbers and transaction details, your tax or social security ID number or equivalent, utility bills for the purposes of address verification, photographic identification and verification such as copies of your passport, passport number and driver's license, information relating to clients, investors, potential investors, or those with ultimate beneficial owner status of an entity, politically exposed person (PEP) screening or sanctions screening.
We process your Personal Data for the purpose of delivering a service to you, for the purpose of maintaining appropriate business records, including maintaining appropriate registers required under applicable law and regulation, for the purpose of quality control, business and statistical analysis, market research, for the purpose of tracking fees and costs and for the purpose of customer service, training and related purposes.
As a job applicant, we may also collect your CV / resume and cover letter.  A copy of our Employee / Candidate Privacy Notice is made available at application stage.
Website & other social media platform visitors
WHEN
We collect information about your visits to the website when you land on any of our web pages through cookies and similar tracking technology.
For further information about the types of cookies we use, you can access our Cookie Policy at this link carnegroup.com/cookies-policy/. 
WHAT
The information collected includes:
access times
the pages you view
the links you click on
the search terms you enter
actions you take in connection with any of the visited pages
your device information such as IP address, location, browser type and language
the Uniform Resource Locator (URL) of the website that referred you to our website and
the URL you browse away from our pages if you click on an external link
We may also collect information when you open email messages from us or click on links within those email messages.
How we use data and lawful basis
Carne will use the Personal Data:
1. for the purposes of performing the Services for which Carne is engaged under contract, including:
setting up and administering the account(s) of Clients,
to conduct or arrange for the conduct of anti-money laundering checks and related actions to meet applicable legal obligations of Carne or Clients relating to the prevention of fraud, money laundering, terrorist financing, bribery, corruption, tax evasion.
to deal with queries or complaints from registered unitholders of funds managed, sponsored or advised by Clients;
in connection with the board reporting and regulatory reporting requirements of the Client; and
for other day to day operational and business purposes.
2. for compliance with Carne's legal obligations, including:
anti-money laundering and anti-terrorist financing (collectively "AML") and fraud prevention purposes, including OFAC and PEP screening for these purposes and to comply with UN, EU and other applicable sanctions regimes;
compliance with applicable tax and regulatory reporting obligations; (c) where Carne is ordered to disclose information by a court with appropriate jurisdiction;
where necessary to establish, exercise or defend its legal rights or for the purpose of legal proceedings;
Where Carne needs to process Personal Data in connection with the provision of its Services to Clients, or where Carne has a legal obligation to collect certain Personal Data relating to an Individual (for example, in order to comply with AML obligations), Carne will not be able to provide the Services if the Individual does not provide the necessary Personal Data and other information required by Carne.
3. where use is for a legitimate interest of Carne, including:
for day to day operational and business purposes;
to take advice from Carne and Clients' external legal and other advisors;
for direct marketing purposes in order to provide information and about Carne's products and services;
4. where an Individual has provided consent to use their data for a particular purpose. If an Individual gives consent for Carne to use his / her Personal Data for a particular purpose, that Individual has the right at any time to withdraw consent to the future use of his / her Personal Data for some or all of those purposes by writing to the address specified below;
5. in limited instances where processing is necessary in order to protect the vital interests of the data subject or of another natural person;
6. in unlikely event processing is necessary for the performance of a task carried out in the public interest or in the exercise of official authority vested in the controller.
Data Sharing
Carne will not disclose any Personal Data to any third party, except as outlined above and / or as follows:
to enable Carne to carry out the obligations under the contract for Services with Clients or in anticipation of entering into such a contract for Services;
where Personal Data needs to be shared with the service providers appointed to Clients, including distributor entities, investment management entities, administrator entities, trustee entities and its or their sub-contractors in connection with the Services;
where Carne is subject to a separate legal obligation requiring it to act as controller of the Personal Data, including where it is required to use the Personal Data for the discharge of its own AML obligations;
where Carne needs to share Personal Data with its auditors, and legal and other advisors;
in the event of a merger or proposed merger, any (or any proposed) transferee of, or successor in title to, the whole or any part of Carne's business, and their respective officers, employees, agents and advisers, to the extent necessary to give effect to such merger;
where the disclosure is required by law or regulation, or court or administrative order having force of law or is required to be made to any of Carne's regulators.
How we store data
We are committed to protecting the security of all of the personal information we collect and use.  We use a variety of physical, administrative and technical safeguards designed to help protect it from unauthorized access, use and disclosure. We have implemented best-practice standards and controls in compliance with internationally recognized security frameworks. We use encryption technologies to protect data at rest and in transit.
We retain information as long as it is necessary to provide the services to you and our clients, subject to any legal obligations to further retain such information.  Carne's policy is, where applicable laws allow, to ensure data is retained for no longer than ten years after the end of our commercial relationship.
We may also retain information to comply with the law, prevent fraud, collect fees, resolve disputes, troubleshoot problems, assist with investigations, enforce our Terms of Service and take other actions permitted by law.
Your data protection rights
Carne recognised the following Data Subject Rights to all individuals regardless of their location or applicable privacy regulations.  For personal information we have about you, you have the:
Right to be Informed – you have the right to obtain confirmation from Carne as to whether or not Personal Data concerning them is being processed and to be furnished with details of the processing.
Right of Access – Where Carne is Processing Personal Data, you have the right to access such Personal Data and other information in relation to the purpose, categories of Personal data, data disclosures, storage, and rights;
Right to Rectification – Carne will use reasonable efforts to keep Personal Data up to date. However, where the Personal Information relates to Individuals connected with or under the control of Clients, Clients will need to notify Carne without delay in the event of changes to the personal circumstances of an Individual connected with the Client so that Carne can keep the Personal Data up to date.
Right to Erasure – you have the right for Personal Data to be erased without undue delay in certain contexts including, but not limited to, where the Personal Data has been Processed unlawfully, where the Personal Data is no longer necessary in relation to the purposes for which it was collected or otherwise or where the Data Subject has withdrawn their consent.
Right to Restrict Processing – you have the right to require that Carne restricts Processing of Personal Data in certain circumstances including, but not limited to, where the Personal Data is inaccurate, is no longer required in light of the purposes of the Processing or the Data Subject has exercised their right to object. Where Processing has been restricted, such Personal Data shall, with the exception of storage, only be Processed with your consent. Carne will inform you before the restriction of Processing is lifted.
Right to Data Portability -you have the right to obtain and reuse your personal data for your own purposes across different services.
Right to Object – you have the right to object, on grounds relating to your particular situation, at any time to Processing of Personal Data concerning you where the Processing is based on the legitimate interests pursued by Carne. Carne shall no longer process the Personal Data unless it demonstrates compelling legitimate grounds for the Processing which override the interests, rights and freedoms of the Data Subject or for the establishment, exercise or defence of legal claims.
Where Carne is relying on a legitimate purpose of Carne in order to use and disclose Personal Data, you are entitled to object to such use or disclosure of your Personal Data, and if you do so, Carne will cease to use and process the Personal Data for that purpose unless Carne can show there are compelling legitimate reasons for it to continue or it needs to use the Personal Data for the purposes of legal claims.
Rights related to automated decision-making including profiling – you have the right to not be subject to a decision based solely on automated processing. Processing is "automated" where it is carried out without human intervention and where it produces legal effects or significantly affects the Data Subject. Automated processing includes profiling.
Further information on these rights, and the circumstances in which they may arise in connection with Carne's processing of Personal Data can be obtained by writing to Carne at dpo@carnegroup.com.
You also have the right to lodge a complaint about the processing of your Personal Data by Carne with the Data Protection Authority.
International Data Transfers
Processes which involve a transfer of Personal Data to a new third party must be referred to the DPO in advance.  Where these transfers involve a transfer outside the EEA, a Transfer Impact Assessment must be completed to ensure an adequate level of data protection in the destination country.
Aside from an adequacy decision, which allows the free flow of Personal Data from the EEA without additional safeguards, Carne requires a signed contract with Standard Contractual Clauses (SCCs) in line with those recommended by the European Data Protection Board (EDPB) to be in place.
Contact Information
You may contact us to exercise any of your rights or ask for more information about your personal information and our privacy practices by contacting us at dpo@carnegroup.com.
You may lodge a complaint with the Irish Data Protection Commission, or your local supervisory authority. See their contact details here National Data Protection Authorities.
Changes to this Notice
We reserve the right to change this Notice at our sole discretion without advance notice. If we make any changes, we will post those changes here and update the "Last Updated" date at the bottom of this Notice. Please check this Notice periodically for updates.
Carne Entities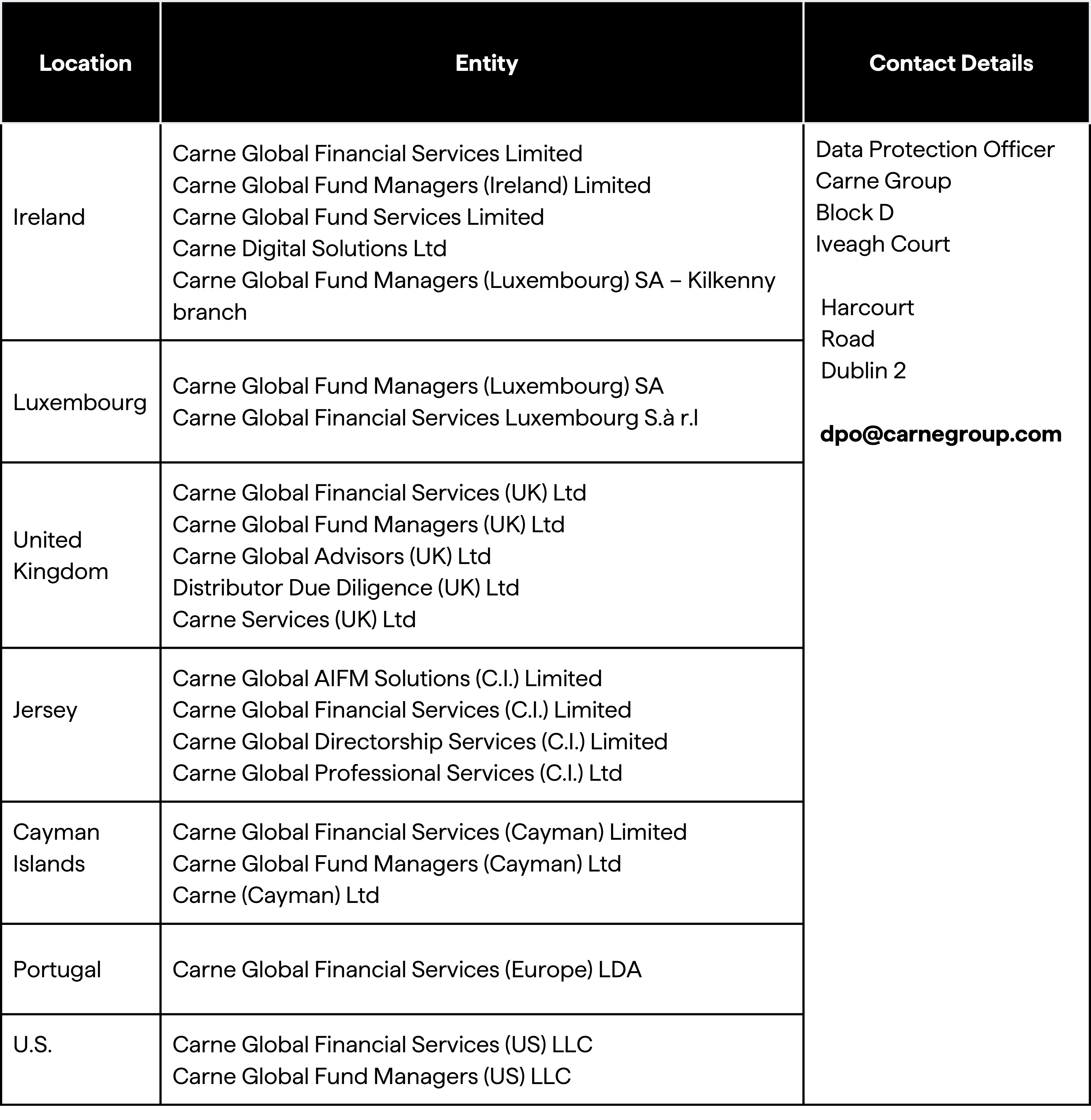 Document Specifics