Vélocity Cycle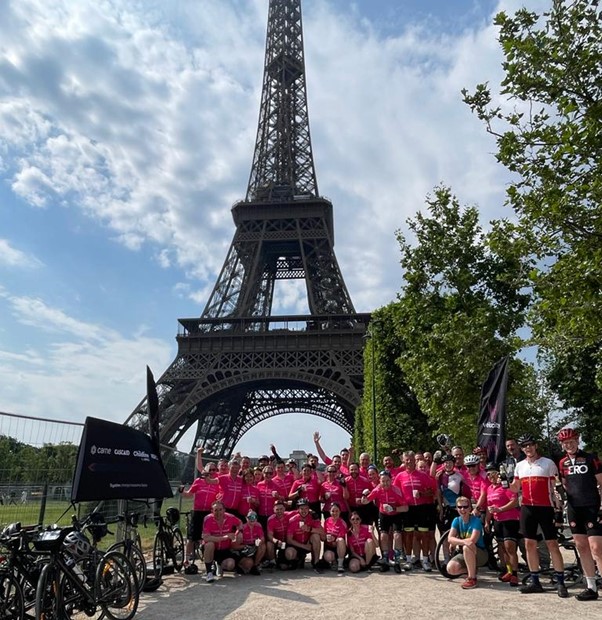 On June 9th Carne's inaugural 'Vélocity' bike ride saw 40 employees from our Ireland, UK, and Luxembourg offices, come together to take on the challenge of cycling 400km, from Cherbourg to Paris, in just 4 days. This year we were raising money for the ISPCC in Ireland, and for CASCAID who were raising money for the NSPCC's Childline services across the UK.
Many team members had not sat on a saddle since their teenage years, so this was an opportunity to not only raise funds for these amazing charities, but also to push themselves, bond with colleagues, and share an unforgettable experience full of tenacity, togetherness, and bounce! From the pros to the first timers, the cyclist's supported each other throughout, showing dedication and drive when training, fundraising, and striving for the finish line each day. Thanks to the support and generosity of more than 1,000 industry colleagues, friends, and family, we raised over €83,000!
All donations have been used to support Childline services across the UK and Ireland, as well as the Smart Moves primary school education programme, provided by the ISPCC. Shortly after completing the cycle, members of our London team visited the NSPCC to meet volunteers and learn more about their frontline services, whilst an upcoming visit to the ISPCC is scheduled for August.
The Vélocity bike ride began with a tough climb out of Cherbourg, before cycling alongside Utah beach, arriving 108km later in the late evening sunshine into Bayeux, a beautiful town that is home to the Bayeux tapestry. The following day our cyclists travelled 96km, taking in Sword beach, before moving in land, finishing with some tough climbs before a dramatic descent into Lisieux with its wonderful Bascilica built in honour of Saint Thérèse of Lisieux. Day 3 consisted of the longest distance at 116km and the most ascents. A tough day in the saddle but all cyclists made it safely to Vernon, with anticipation and excitement building as the finish line was now in sight. Setting off on the final and hottest day, the Vélocity team started with a challenging climb out of Vernon. Their sights firmly set on Paris, they reached the Palace of Versailles before negotiating the Paris traffic, crossing the finish line and celebrating together in front of the Eiffel Tower.
On behalf of our cyclists, CASCAID, the NSPCC and ISPCC, a huge thank you to everyone for their support!
On the 22nd of June Carne, on behalf of everyone who supported the Vélocity charity bike ride, was delighted to sponsor the NSPCC's "One Unforgettable Day" Together our fundraising efforts allowed us to cover the costs of running all Childline services across the UK.
Members of our London team were also onsite to hear from Richard Quaife, Childline Supervisor Rozeena Omar, and volunteer Ian Shiner learning more about a day in the life of a volunteer, as well as some of the stories behind the children that Childline has helped.
Some of our team also enjoyed a fantastic evening with clients and colleagues at the CASCAID asset management dinner in London in aid of the NSPCC, where Carne were presented with a Carne Velocity cycling jersey marking the charity cycle.
An event to remember filled with tenacity, togetherness, bounce … and punctures!
Written by